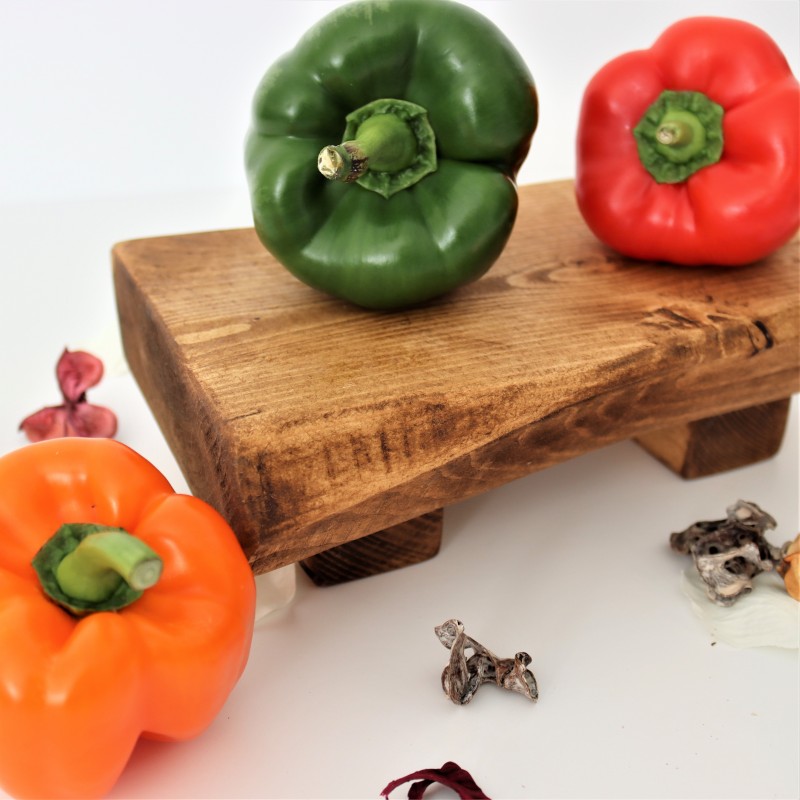  
Rustic Wooden Serving Platter
Our platters bring a rustic, natural feel to any buffet.
Security policy
Read more about our SECURTY POLICY, TERMS AND CONDITIONS
Delivery policy
Read more about our DELIVERY POLICY
Floating Shelves
Our rustic floating shelves have been your favourite product for a long time. And we cannot argue with that!
Our shelves are handmade in our workshop using sustainable, great quality wood and we guarantee they will look amazing in your home. Using metal floating shelf brackets saves space on your wall and makes your home look more spacious.
We are sure that you will find exactly what you are looking for whilst browsing our range of shelves!
Our Materials Matter
Here at Chill House we source some of the world's finest Pine. Sourced from sustainable sawmills from across Europe, only the finest cuts go into our furniture. We only use FSC Certified Timber.
Chill House furniture is handcrafted in our North East workshop right here in the UK.
Every timber is hand-picked to make sure its rustic characteristics are preserved. This is what makes our wood unique, rustic marks such as splits, cracks, knots, bows, twists and snakes and waney edges, all adding the charm to the piece.

Our quality is unmatched in hand-built furniture, if you have any questions, or would like a quote for a specific piece and/or size, please do not hesitate to contact us and we will be happy to assist you.
Chill House Finishing: Wax
Here at Chill House we enjoy nothing more than enhancing the natural features of our woods. To intensify the grain pattern and to protect the wood we use wax on all our wooden products. Our waxes add a beautiful, natural colouring to the woods to showcase their full potential.
To ensure that our pieces are suitable for any home or space – we have a range of colours available:
Natural Oak
Dark Oak
Teak
Tudor Oak
Walnut
Antique Pine
Unwaxed

We can cater to a specific colouring, a stain or even a varnish upon request if this is something you would like – please do not hesitate to contact us.
Please remember that colours may vary and may be different to those seen on the screen due to monitor settings and due to the type of wood we use. If you are unsure, we recommend ordering samples first.
Chill House Sizing:
All sizes are visible in Chill House Specifications.
If you require any size that is not listed in our store, please do contact us, as bespoke and custom orders are always available. Just send us a message with your required sizes and we can give you a quote right away.
All sizes may vary very slightly due to the nature of the timber.
What's included:
- Platter
Data sheet
Depth

15 - 20cm (we cannot guarantee the same size for each platter as these are picked randomly)

Height

Approx. 6cm

Length

From 15cm - 25cm (we cannot guarantee the same size for each platter as these are picked randomly)

Wood Type

Solid pine

Finish

Hard wax oil

Suitable for

Decoration
Once your piece arrives we advise that you remove all the packaging and allow your new Chill House furniture to breathe. The timber needs time to adapt to its new environment. Please check your new items thoroughly and contact us should there be any issues.
Our Platters take around 2-5 days to make, to ensure they are perfectly ready to use.
Delivery is free, and you will be updated with all tracking information. Please check our Delivery Page for more information.
International deliveries are accepted to some EU countries (please check with us if your country isn't listed).
Wax Maintenance Packs
To keep your wood looking its best we have Wax Maintenance Packs available.
Our Packs are ideal to fix small damage to shelves or furniture. Wood wax is very easy to repair compare to other wood finishes. In our pack you will find everything you need to repair your wooden furniture from bumps, scratches and knocks that can happen in every home. 
To apply a new coat of wax wipe over the item, ensuring that it is free from dust, then use the cloth to apply a small amount of wax whilst rubbing in the same direction as the grain of the wood. Leave the repaired area to dry for about 15mins. Your shelf now has a new shiny finish. 
Wood Care
* It's easy to care for your wooden furniture. For any spills or stains use a clean slightly damp cloth to wipe it off. You don't want the water to sit on the wood so wipe it again with a dry cloth if you have to. Do not use any furniture sprays, kitchen or baby wipes or this can damage your wax finish. 
* Natural wood can be affected by certain environmental changes. Don't worry about any bending or cracks caused by the change of temperature or humidity as this is the natural process that wood could encounter. 
* To keep the wax finish looking brand new for years to come, we recommend applying a clear or colour wax or to the shelves once a year.
No customer reviews for the moment.